Minimalist Candle Bundle includes: Christmas Tree, Apple Cider, and Toasted Pumpkin

Christmas Tree
Wood+Moss notes

TOP:Fir Needle
MIDDLE:Cedarwood, Pine
BASE:Fir Balsam
A stroll through a lush forest of evergreens in search of the perfect Christmas tree inspired this festive blend of spruce and pine, over a heart of fresh cypress and balsam fir and a rich base of moss, musk, and cedar.

Apple Cider
Fruity+Spice notes
TOP:Crisp Apple
MIDDLE:Cinnamon, Clove
BASE:Cedarwood
Nothing welcomes fall more than a steaming cup of apple cider, garnished with a cinnamon stick (and some bourbon, of course). Infused with natural cinnamon, nutmeg, clove, orange, and cedarwood essential oils, it's crisp and cozy — all the things you love about this season!

Toasted Pumpkin
Gourmand+Spice notes

TOP:Nutmeg, Cinnamon
MIDDLE:Pumpkin Spice, Clove
Toasted Pumpkin is the perfect scent symphony of toasted pumpkin seeds, cardamom, nutmeg, clove, and cinnamon notes.

MINIMALIST Collection
Inspired by the natural aromatic beauty that exists all around us—the crisp, dewy air during a verdant hike amongst walls of ferns and towering trees in California, the delicate floralcy of freshly picked wildflowers.

Our Minimalist Collection features elegant straight sided clear glass jars with modern minimalist labels. 
Perfect next to a bud vase filled with freshly picked blooms or your prettiest succulent on a mantle, nightstand, or coffee table. 
The brushed gold lids instantly make your candle travel-friendly.


PRODUCT DETAILS

Made in Brooklyn, New York with 100% soy wax for an eco-friendly clean burn. 
We use lead-free cotton wicks and premium fragrance oils infused with essential oils. 
Our candles are vegan, cruelty-free, phthalate-free, and petroleum-free.
Diameter: 2.88 in

Height: 3.5 in
Net Wt: 8oz/227g
Burn time: Up to 50 hours
Welcome to our world. I launched Brooklyn Candle Studio in 2013 with a mission to create candles with captivating scents, beautiful minimalist design, and the best ingredients. Essentially, everything we love about luxury candles, but at accessible prices. Our dreamy scents are inspired by nature and travel, moments and memories.
Each of our candles is wicked, poured, and labeled by hand from start to finish by our team of artisans in our studio space in Industry City, a hub of makers, designers, artists, and small businesses. All of our employees earn fair wages and benefits: paid time off and subsidized healthcare, dental, and vision. 

We like to think of our wares as full sensory experiences—from the artful minimal packaging to the warm candlelight and delicate aromas that fill a room. So, go ahead, light one up.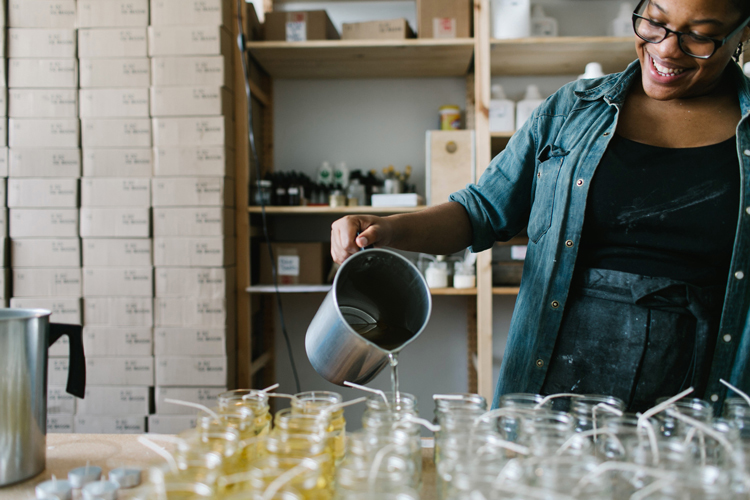 About Our Founder-TAMARA MAYNE
Tamara Mayne is fragrance obsessive and designer who founded Brooklyn Candle Studio in 2013. A former art director in the fashion industry, she sought to create beautifully packaged natural candles at an affordable price point.
Originally from Virginia, Tamara studied Studio Art and Economics at the University of Virginia before moving to New York City. After worki
ng a series of jobs in finance and tech, her desire to work in a creative field led her to enroll in the Fashion Institute of Technology to study Graphic Design in 2009.
She was working as a designer and art director in 2012 when she decided to make candles as gifts for family with a candlemaking kit fro
m her local craft store and became deeply obsessed with aromatherapy and the art of candlemaking. The rest, of course, is history.