Intoxicating and feminine, Jasmin is reminiscent of a tangle of jasmine vines—a deep floral inducing harmony and optimism. Top notes of tea leaf and bergamot disperse to reveal a heart of ylang-ylang and jasmine atop a base of sandalwood and musk. 

SCENTS
FLORAL notes
NOIR Collection

Botanicals take center stage in this luxurious collection inspired by nature's bounty. Jasmin and Mimosa are the perfect florals—like perfume after a few hours of wear—light, subtle, and elusive. Hinoki and Santal feature woodsy, resinous notes. Neroli is light citrus, energizing and fresh and slightly sweet. Balsam captures a winter getaway in a cozy cabin tucked away in a forest of fragrant evergreens in Upstate New York.

Hand-poured in black matte glass vessels and packaged in textured embossed boxes, these candles glow gracefully and look beautiful in all interiors.

PRODUCT DETAILS

Made by Brooklyn Candle Studio in Brooklyn, New York with 100% soy wax for a clean burn, a cotton braided wick primed with vegetable wax, and fine perfume oils and essential oils sourced from around the world. No phthalates, dyes, or preservatives.
Diameter: 3.15 in.
Height: 4.3 in
Burn time: Up to 70 hours
Welcome to our world. I launched Brooklyn Candle Studio in 2013 with a mission to create candles with captivating scents, beautiful minimalist design, and the best ingredients. Essentially, everything we love about luxury candles, but at accessible prices. Our dreamy scents are inspired by nature and travel, moments and memories.
Each of our candles is wicked, poured, and labeled by hand from start to finish by our team of artisans in our studio space in Industry City, a hub of makers, designers, artists, and small businesses. All of our employees earn fair wages and benefits: paid time off and subsidized healthcare, dental, and vision. 

We like to think of our wares as full sensory experiences—from the artful minimal packaging to the warm candlelight and delicate aromas that fill a room. So, go ahead, light one up.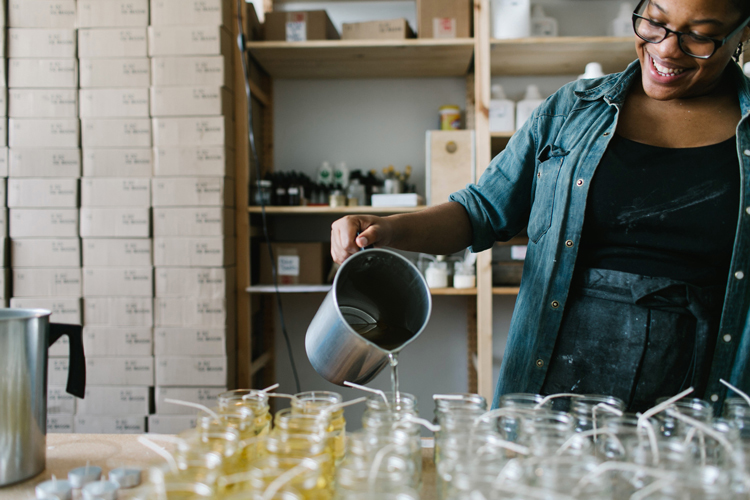 About Our Founder-TAMARA MAYNE
Tamara Mayne is fragrance obsessive and designer who founded Brooklyn Candle Studio in 2013. A former art director in the fashion industry, she sought to create beautifully packaged natural candles at an affordable price point.
Originally from Virginia, Tamara studied Studio Art and Economics at the University of Virginia before moving to New York City. After worki
ng a series of jobs in finance and tech, her desire to work in a creative field led her to enroll in the Fashion Institute of Technology to study Graphic Design in 2009.
She was working as a designer and art director in 2012 when she decided to make candles as gifts for family with a candlemaking kit fro
m her local craft store and became deeply obsessed with aromatherapy and the art of candlemaking. The rest, of course, is history.